I'm a great lover of, though not a great wearer of, antique/vintage jewelry. Some things I've collected are in my Etsy stores, but others I won't part with. Some of those I thought I'd share with you today.
This Victorian brooch/pendant I found in an antique store in Richardson, a suburb of Dallas, some twenty years ago. It's from the latter part of the 19th century, is about an inch wide with a small diamond in the center and pearls on each of the rays, and has a pendant bail that folds away. I think it's gorgeous! I used to wear it, back when I held down a job, but it kinda doesn't go with t-shirts and jeans.
Tooling around on the 'net, I found several pieces similar, though none that were exactly like.
This first has a larger diamond; they're asking $595 for it.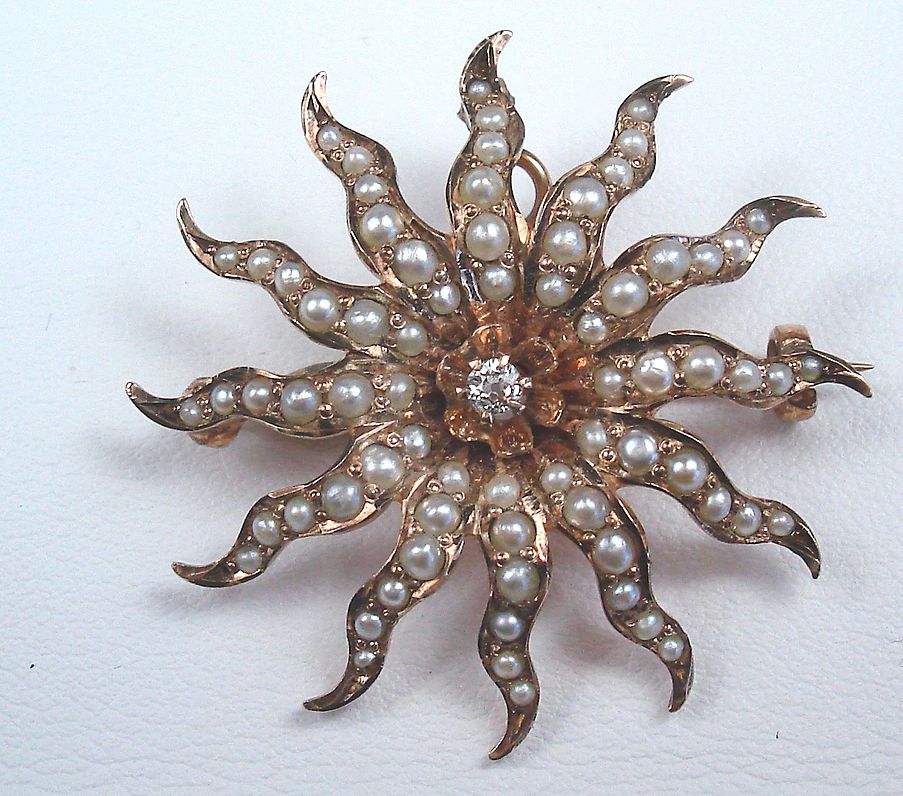 This one has more pearls, a larger diamond and more detail at the center. They're asking $585 for it.
This one is most like mine, but with more pearls and a larger diamond. They've dated it to 1870 and are asking $775.
I found others ranging from $295 all the way to $895. Apparantly this was a popular design of the period.
For a second or two, I considered selling mine, but I don't need the money, and while I don't wear it now, that doesn't mean I mightn't someday. I sure as heck wouldn't spend the money to buy one at these prices! (I think I paid something like $50 for it.)
Now on to the other heirloom stuff I wanted to show y'all:
A closer view of the filigree detail.
These earrings are not as old, but I consider them lovely. I found them in an antique store in New Braunfels in 2003 and paid as much for them as for the sunburst brooch. Because of the similarities to Mum's ring, I had to have them. Besides, they were in a price range I could afford.
Here I've shown the earring and ring together. They're similar, yet different. The earrings aren't any older than the '70s or '80s, but they're sterling with gold filigree, and I consider them worth every cent of what I paid.
The final piece today is my mother-in-law's engagement ring. After she died, my father-in-law gave it to me, which meant a great deal to me. I've been proud to wear it ever since.
Poor, pitiful me never had one of my own, which may be why Dad made sure I had this. What he didn't realize is that it was my choice not to have an engagement ring. I wanted just a band. Even then, I worried about money. Starting out, we were so poor we barely had enough to set up housekeeping. I couldn't see spending the money for an engagement ring. Over the years, though times got better, there's always been something else to do with money. I know lots of women would beg, borrow or steal for a diamond ring, but not me. Even now, when we can afford it, it seems a waste. So when I wear a ring, I wear Mum's.
Here it is as I wear it, with a wedding band I found at an antique store in downtown Dallas ages ago. I like the two together; they look as if they've been passed down through generations, as they have and as they will be.
Isn't that what an heirloom is?