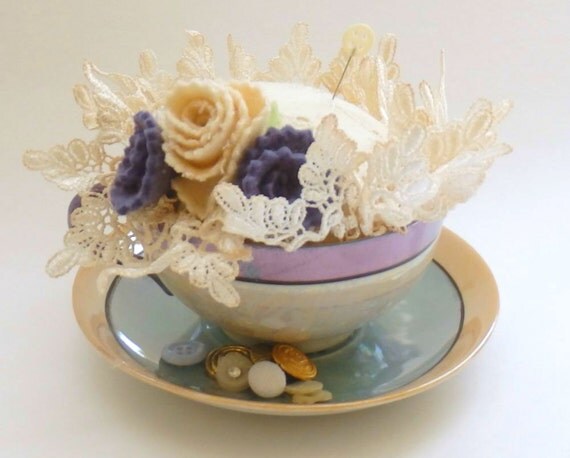 A while back,
I picked up a couple of teacups from the thrift store, loving the luster of them, though they were sans saucers. Then, on another hunting trip, lucky find! The saucers were by the
same manufacturer but a
different color way. Oh, well! Both cups and saucers had the luster and black banding and both had the luscious gold. Though they mightn't
work for serving tea, I
don't really do that anyway, so teacup pincushions here we come.
The one pictured above was the first
I made. It's currently offered on my Etsy shop here. But if you prefer to make one of your own,
I've put together a tutorial for you.
The materials needed are few, and you probably have them already in your stash:
Teacup and saucer
Small swatch of fabric (8" square or so)
Embellishments, as desired (I've used felt roses, a seam tape bow and a few buttons.)
Measure your cup and cut the fabric into a circle about twice as wide as your teacup opening. Just eyeball it. Mistakes can be corrected.
Actually, I miscut this one. It turned out to be a little too small, but I corrected it, as shown in the tutorial. For this one, I chose an embroidered upholstery
swatch.
For the first, it was a piece of eyelet from a tattered pillowcase. It doesn't take much fabric; remnants will more than suffice.
Using a needle and thread, sew a long stitch around the edge of the circle, about ¼" from the edge.
Keep the thread loose at both ends. Before pulling the stitches to gather,
add polyfil and fit the pincushion to your
cup. You can slide it in upside down or right side up; just make sure it fits. Once it's fully stuffed to where it fits the cup. tie off the ends of the thread to keep everything in place. (If it's too small and there's an opening at the bottom, as mine was, cover the polyfil with a small patch of fabric or felt.)
When your pincushion ball is complete, audition your embellishments.
Here's where you can correct any mistakes and decide if you like your choices. I auditioned lace, buttons, a seam tape bow, and felt roses. The lace was too white and the off-white rose was too big

…

and the turquoise rose was too turquoise

…

and the pincushion was too small. Fix it time! I refitted the pincushion, chose different felts for smaller roses and added a different tea-dyed lace.
Second audition, or third, or fourth. I did a few on this one!
When everything's to your liking, stitch down your embellishments. I prefer stitching to gluing at this point; it allows me to change my mind, which, as I indicated, I did a number of times. (If you're more certain, glue away!)
Everything satisfactory? Great. Start the final gluing. I do the buttons first.
Arrange them in a spill on the saucer
and glue one by one
. On this one, I did it opposite where the handle would go. It feels more balanced.
Now r
un a bead of glue inside the cup, about an inch down and position your pincushion inside. (You want the glue far enough down that it won't squeeze back up once the pincushion is inserted.)
Press in your pincushion. I arrange the embellishments/seam tape bow over the handle.
Run a bead of glue
along the bottom of your cup and carefully set it in place on the saucer.
Y
our pincushion is done! It's a lovely piece to keep next to your sewing table. Or beside the chair where you do your handwork. Enjoy!