I've become fascinated by the principle of "make-dos." According to
Old World Primitives
, "A make-do is created using items that are immediately available, historically out of necessity. Make-dos can either be antique or new (often made to look old by primitive folk artists). They incorporate items that broke and were repaired using whatever was on hand, or broken parts that were used in creating something new. The most common make-dos are handmade pincushions added to the top of the salvaged bases of broken candlestick holders, oil lamps, or teapots. Pincushion make-dos created by women who made do with what they had were prevalent during the 18th & 19th centuries."
Perhaps my fascination comes from the fact that my family were poor as I was growing up. We left poverty behind a long time ago, but the principles have stayed with me. I can spend a couple of hundred dollars on a handbag, and have done, but I'd much rather find a Dooney in a thrift store, which I've also done, than buy a brand-new one from an up-scale department store.
So when I'm at thrift stores, I always always look for things I can turn into other things. Luckily, I'm never disappointed. I've added designs to discarded pillows and made pincushions from miscellanea. Today, I want to talk about the pincushions.
This first one, which I sold a couple of years ago, isn't truly a make-do. The bird was made from purchased felt and the base from wooden parts I bought at a craft store. Still, he looks as if he might have been a make-do, doesn't he?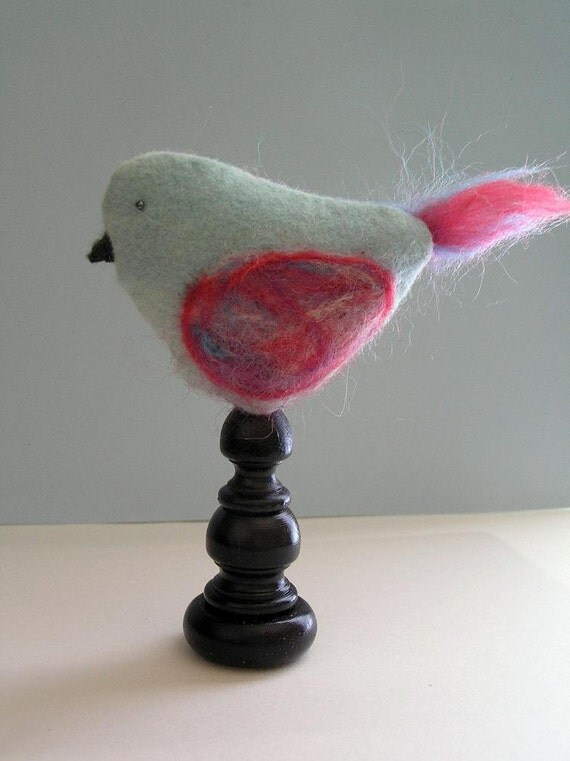 The next one I made from a crystal clock I found that was missing its innards.I think I paid less than a dollar for it.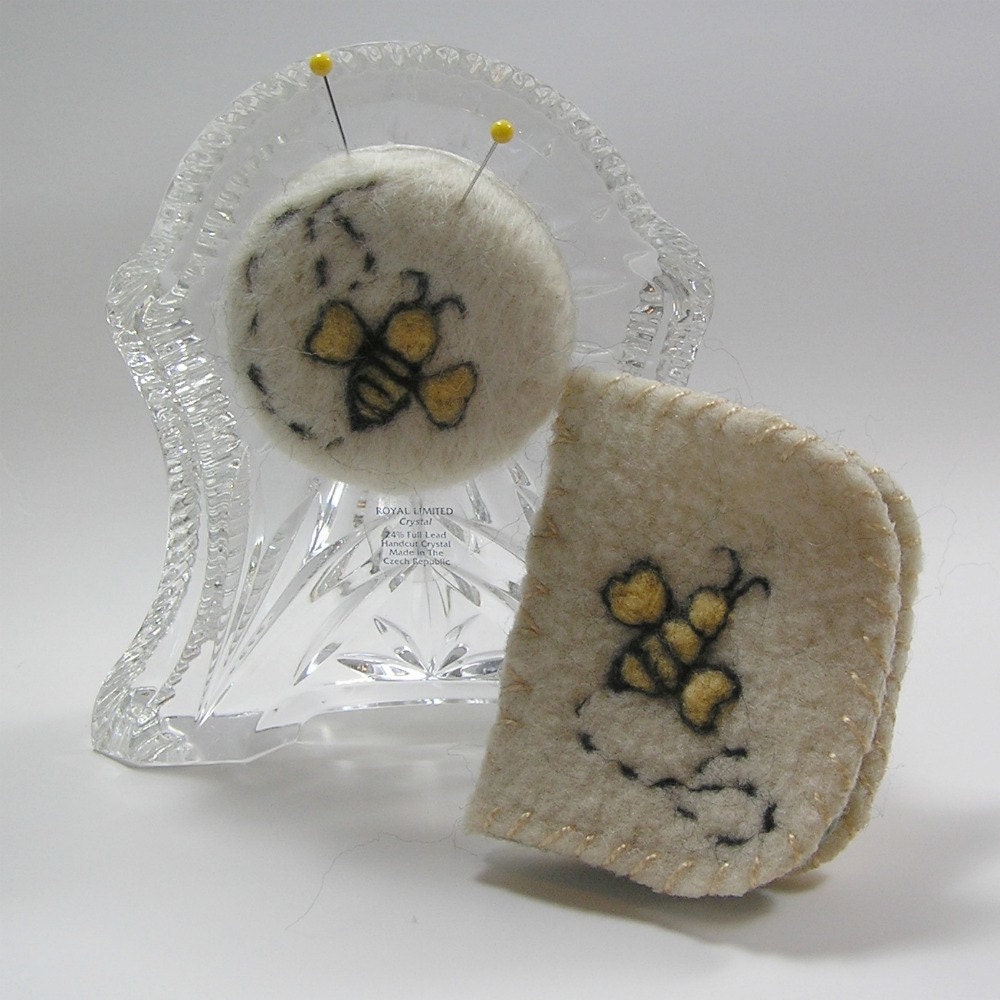 I also think it turned out well. The pincushion was both needle-felted and wet-felted, the design needle-felted, as was the design on the needle book, which was made from a fulled wool blanket. You can find the set for sale
here
.
The last one I'm showing today I made using a crystal and silver coaster I picked up the same day as the clock, probably for about the same price. Once part of a set, it was all by its lonesome when I found it. I knew at once it'd make a great pincushion.
For it, I used another piece of that old hand-stitched quilt I spoke of last post. Trying to save the largest portions for another use, I was forced to use a piece that had a big white block at the center with only some of the colorful blocks around the edge. So I embroidered a few bullion roses on the white.
The needle book I made from a teensy scrap of the quilt onto which I sewed a doily I began and never finished many years ago. I really hate to discard anything!
What about you? Do you fancy remaking things? I'd love to hear your comments!